Call Mark at 701-741-6307 and schedule an appointment today.
Since 1998, Aquatic Designs Aquarium Maintenance in Grand Forks, North Dakota.

Enjoy the splendor of the ocean or freshwater by having your very own fish aquarium maintained by the experts at Aquatic Designs.

Sit back, relax, and enjoy the beauty of having your very own aquarium, without the maintenance hassles.

Virtually any fish species can be maintained in our aquariums. Give us a call, and we can custom design an aquarium that fits your life style and location either in your business or home.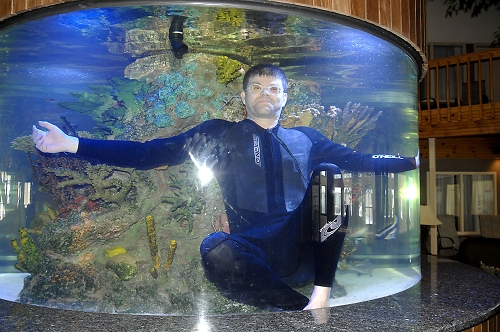 Aquariums are ideal for health care waiting rooms to create a relaxing and calming atmosphere for patients. Children are excited to visit the doctor when parents remind them they are going to view "The Fish Aquarium at the Doctor's Office!"
Contact us, and see how affordable it actually is to have this unique form of peaceful and relaxing entertainment.
We are located in Grand Forks, ND and maintain aquariums throughout MN and ND, in residential homes as wells as large scale commercial aquariums! CALL today!
Call Mark at 701-741-6307 and schedule an appointment today.
EMAIL us Here

---
COPYRIGHT 2007-INFINITY © WWW.FISHDR.NET - AQUATIC DESIGNS - GRAND FORKS, ND